'A Spirit of Conquest'
A legacy of passion
Driven by a passion for Cognac's finest eaux-de-vie, MAISON D'AINCOURT founder Vincent Norguet is offering a collection of three exceptional Cognacs, all from the Grande Champagne cru. His ultimate aim is to showcase the rarest eaux-de-vie in a carafe expressing all the elegance and power of timeless Cognacs, as well as French artisan expertise and authenticity.
He and Julien Nau, a sixth-generation distiller and master blender, laboured long and hard on blending to define the D'AINCOURT style and put the first compositions together, guided by the aromatic requirements of the great Cognacs and taking an uncompromising approach with total creative freedom.
A winning spirit
MAISON D'AINCOURT is celebrating the values of courage and loyalty displayed by imperial generals and paying tribute to our forebear the Marquis de Caulaincourt, Grand Equerry of Napoleon I and French Ambassador to Russia in the 19th century.
In reference to these great historic men's epic tales of war, the D'AINCOURT coat of arms features the imperial grenade that used to adorn their military uniforms and swords.
"D'AINCOURT is aimed at Cognac enthusiasts with a resolutely modern attitude, guided daily by the same values as these men of Empire, demonstrating a bold, conquering spirit."
The embodiment of time
D'AINCOURT Cognacs come in an exclusive, authentic carafe, a timeless, masculine reinterpretation of the original Cognac bottle. Created at a French artisan glassworks by master glassmakers using traditional techniques, each D'AINCOURT carafe is a unique item.
"To discover the D'AINCOURT Cognac collection is to truly feel all the emotion stirred by these old eaux-de-vie in all their finery."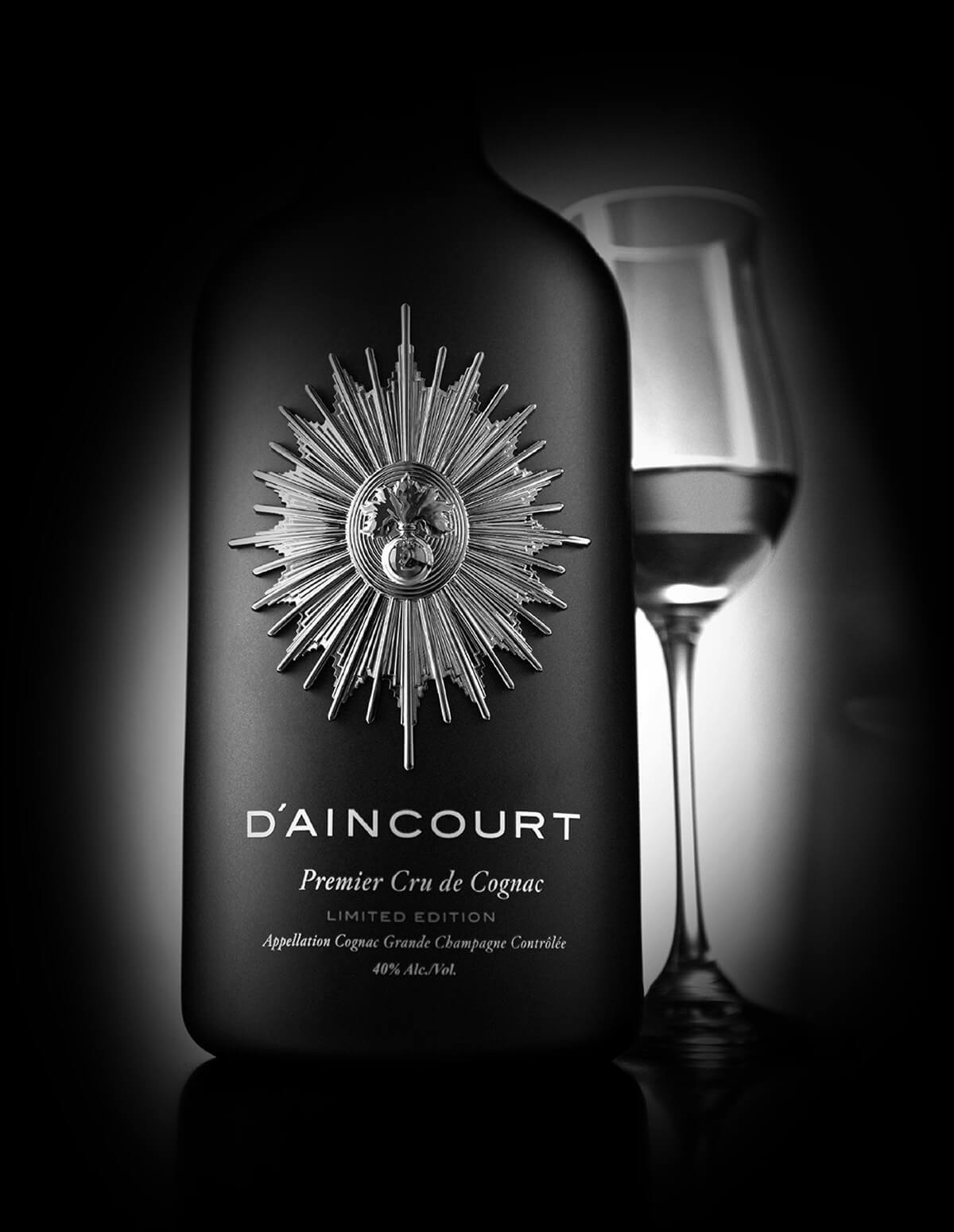 The ancient art of the master blender: at the heart of aromas
The MAISON D'AINCOURT master blender uses exceptional batches to create his blends. Matured for decades in the darkness and silence of our heavenly cellars, the eaux-de-vie that go into the painstaking process of creating our Cognacs are hugely rare. This culture of storing and maturing in oak barrels is specific to local families who are proud to mature incomparably refined eaux-de-vie.
The decades-old eaux-de-vie used to create the exacting blend of D'AINCOURT Cognacs are only available in limited quantities.
Like artisan perfumers, Julien and Vincent select the eaux-de-vie and incorporate them into an aromatic score to create a perfect composition where every note has its place. Their top-quality creations are built on expertise passed down from generation to generation, because very old eaux-de-vie with delicate aromas require particular attention and respect.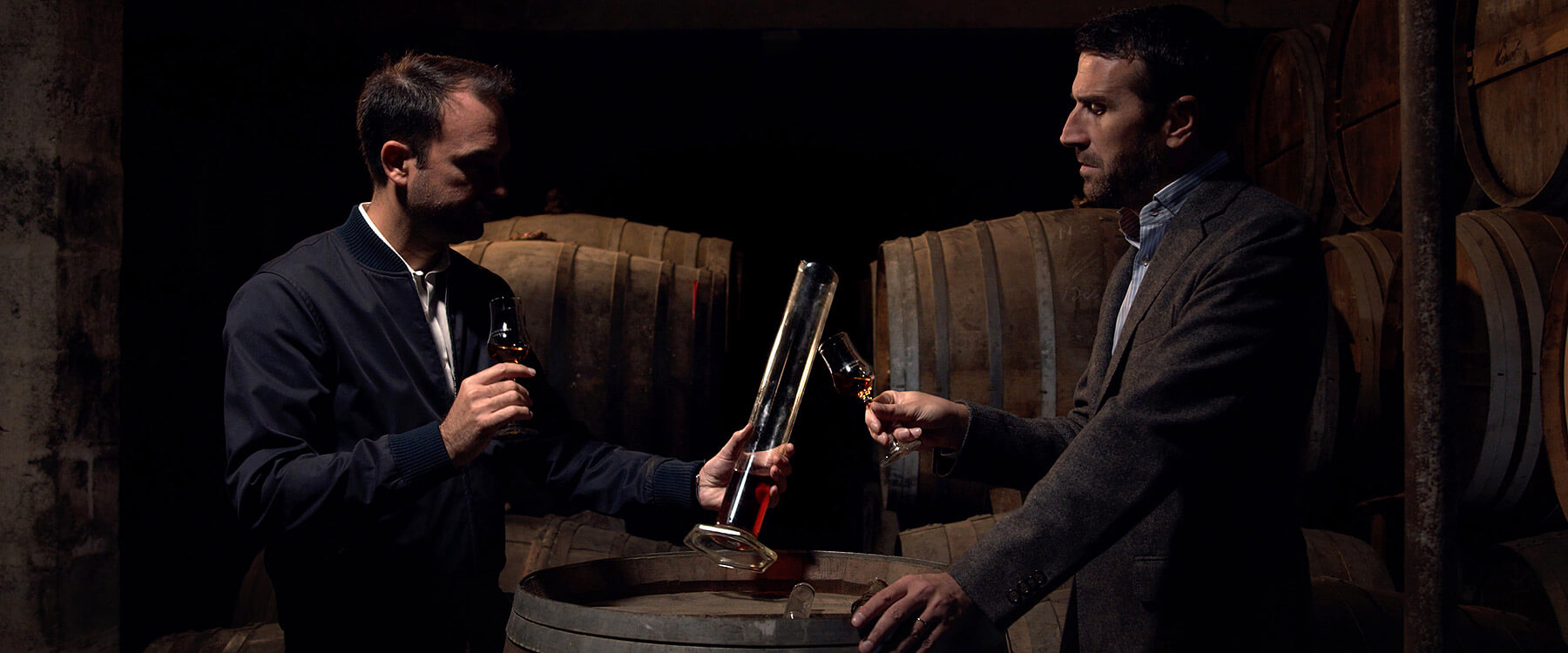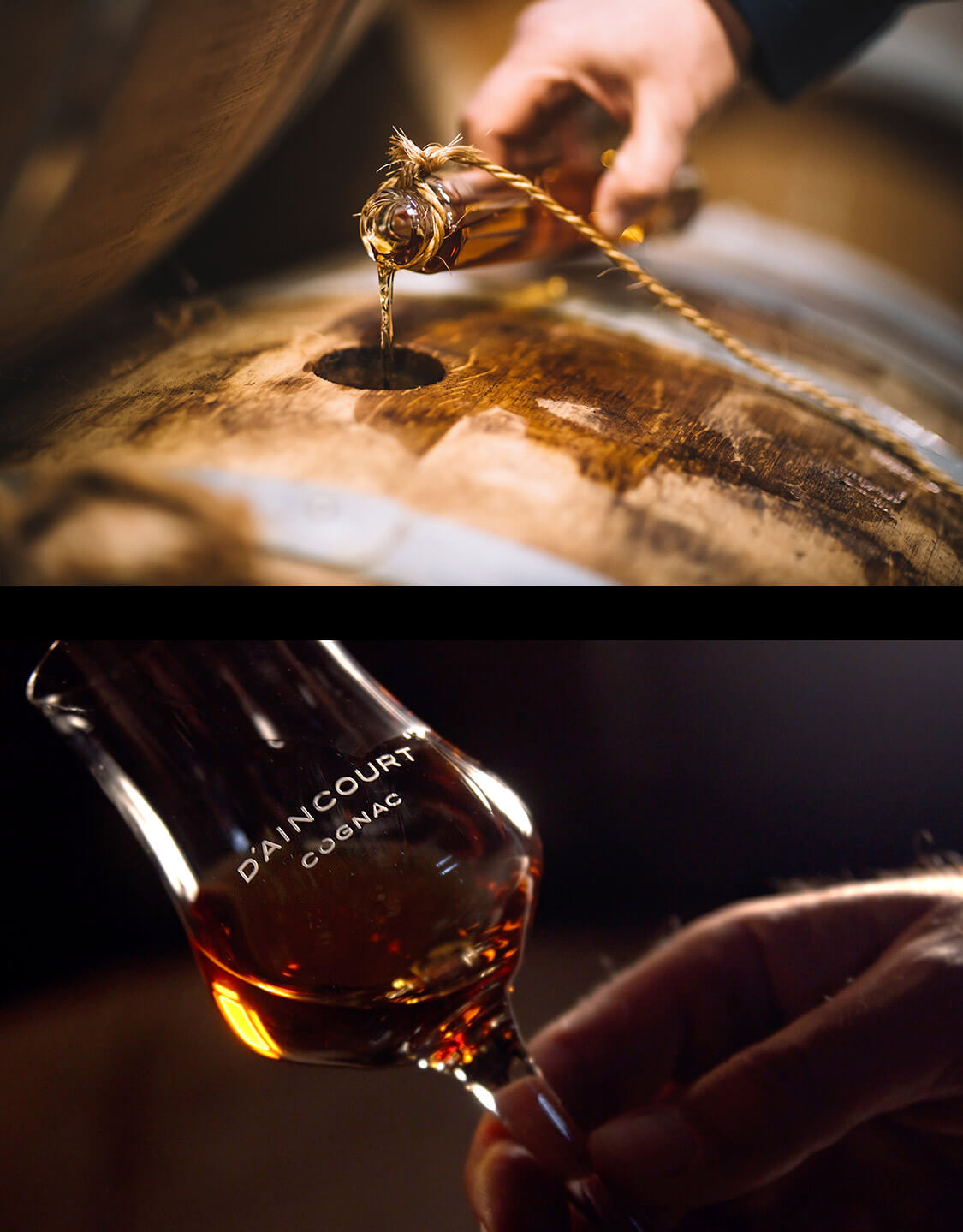 A unique, elegant style
The clear, silky style of D'AINCOURT Cognacs is characterised by the minerality and aromatic power offered by very old eaux-de-vie from the limestone terroir of Grande Champagne, a Cognac Premier Cru.
These unique, hugely elegant compositions are odes to contemplation, charming the senses of great Cognac aficionados.

Back
to top